Which Leg Ice Pack is Best for You?
With so many ice packs and cold wraps being sold online, it is easy to get lost in the search for the best product. Websites such as eBay and Amazon are offering thousands of products, all of which are making wild claims and ludicrous offers. So which is the best product for your injured leg? Below is a list of our reviews and tests of the products we found for leg injuries, and the real ratings we think they should get.
King Brand Leg ColdCure Wrap
Comfortable and High Quality Wrap
$59.99 - $64.95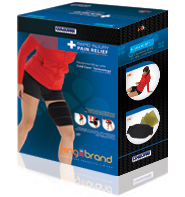 The wraps offered by King Brand have the best performance, quality and treatment therapy by far. This 'ColdCure' Leg Wrap is made from high grade, extremely comfortable neoprene fabric that offers compete coverage of the leg. It comes with multiple gel packs that are 10" by 7" so they provide cooling on the sides, and either the front or the back. Having a large wrap like this gives you the freedom to wrap the pack where ever you need the relief. With no negatives for this wrap, it's well deserving of the number one spot on our reviews.
Wraps Offered At: kingbrand.com
Polar Ice Shin Leg Wrap
Small Calf Size = Smaller Ankle Opening
$17.25 - $18.46

When ordering a smaller wrap for my smaller calf size, the ankle size was also decreased so it was almost impossible to get your foot in the wrap. Having done the whole saran wrap frozen peas to help with inflammation this was a nice step up. The neoprene wrap holding the ice packs to my shin was great. It worked for about a week, and one of the compartments started to leak, then another, and another. After a couple weeks only about half of the compartments had fluid left in them. The ice packs were cushioned in the wrap so its a mystery to where the leaks came from. The cold quality from the fridge wasn't enough, so freezing them made them colder and had the cold last for longer, but the wrap became so inflexible making it hard to put the wrap on if the affected area is tender or bruised.
Wraps Offered At: amazon.com
ProSeries Total Ice Wrap
Misleading Marketing Strategy
$33.45 - $37.65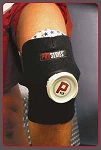 It seems that a company called 'Total Ice' bought 'ProSeries' and is still using the former branding to keep return customers. The problem with this is that the cost of the product has gone up, and the quality has gone down. The openings for the ice are no longer big enough to fit in full ice cubes. The packaging sweats as the ice melts and is uncomfortable and cumbersome for anyone with a smaller leg. The images used on the pages are also misleading. The product looks a lot bigger in the image compared to what you receive.
Wraps Offered At: amazon.com
Body Glove Deluxe Ice Pack
Small, Leaky Bag
$32.95 - $37.34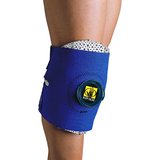 This product definitely has its positive points, such as the wrap material and length of time the cold lasts. However, these seem a bit overshadowed by the fact that the ice bag began to leak after several weeks of regular use. If the bag were made of a higher quality material, this product would have 4 stars. Aside from the fact that the bag began to leak, it's also a pretty small bag. If you have larger legs or want to cover a larger area, this may not be the product for you. While the ice bag makes the product a bit difficult to put on, it's reasonably comfortable to wear.
Wraps Offered At: amazon.com
Pro Ice Cold Therapy Knee/Multipurpose Wrap
Leaks!
$29.99 - $54.95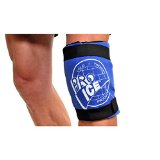 The best thing about this wrap was the fact that it stayed cold long enough for a proper treatment, which can be hard to find in a cold wrap. The reason it stays cold long enough though, is because it contains tiny pockets of ice. This actually becomes a draw back because it makes the wrap extremely stiff when frozen. It would be much more comfortable with gel packs. It would probably also prevent the leaking that starts when the ice begins to thaw, which is messy and annoying. The wrap is also a bit cumbersome but the long straps help to put it on. Overall, would be much more happy with a wrap that didn't leak!
Wraps Offered At: amazon.com
Polar Ice Knee/Leg Wrap
Color May Vary?
$22.38 - $27.48

Once the product arrived, it said that colours may vary. Assuming that the green probably wasn't what was going to be sent out, I was pleasantly surprised to find out that I had purchased a green wrap with the blue straps. The wrap is big enough to treat multiple areas, but with only having the two straps it is quite akward to get the compression needed for cold compression therapy. The ice packs as they warm up start to sweat, making this wrap very heavy and not easy to re-freeze after the first use without it becoming very rigid. The quality of the materials seems very low, and doesn't stay cold for much more than 10 minutes.
Wraps Offered At: amazon.com
FlexiKold Gel Ice Pack
Cracks When Frozen
$13.99 - $27.99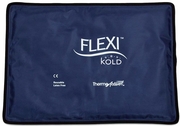 Probably the worst ice pack! It's heavy and bulky when at room temperature or frozen. With the price point being more expensive than all of their other competitors, having the bag rip open and the contents leak out everywhere does not make it a superior product. Applying the frozen plastic directly to your skin allows for quick cold burns as the condensation on the outside of the package will stay cold and then leak off of the pack and down your leg. The worst part, is that the seller does not accept any returns, so you're out of luck trying to return this.
Wraps Offered At: amazon.com
Thera Pearl Shin Wrap
Defective Product?
$16.16 - $24.99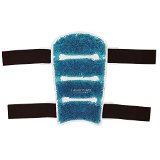 Yes, the price is low compared to a lot of other cold therapy products, and you also get two wraps, but it is not worth the hassle. Invest in something that is higher quality and will last longer and work better. The product may be defective because it does not resemble the images online. There are very few beads inside, whereas the images show tons of beads. The cold didn't last more than 10 minutes, even when stored in the freezer all night. Made of very cheap material. Would hardly call this a wrap as it's just beads inside plastic with straps on either side.
Wraps Offered At: amazon.com
Related Forum Content from the makers of the BFST Device→
You might be asking yourself "Who is King Brand, and why is their forum content so important?" Well, here's why! King Brand takes pride in knowing that their products will help heal people, and they aren't afraid to show it. Their commitment to helping people heal naturally, is the pillar on which the company has grown on.
The term BFST stands for Blood Flow Stimulation Therapy and it was created by King Brand Health Care. Blood flow is very important to help heal injuries, and after years of research and development they have come up with a product that does just what it says. No other company can match what King Brand does. They are the only company on the market that can directly target injuries at a cellular level with no surgery or doctors visits needed. Of course it's important to visit the doctor when you've injured yourself, but their treatment modalities can be done in the comfort of your own home.
The King Brand forum is a great place to research specific ailments and to figure out whether or not the BFST and ColdCure products can help. Their treatment advisors are constantly posting on forums to help educate people on how to heal their injuries. If you can't find the answer you're looking for, then feel free to take part in their forum by registering.
Just below is a prime example of the quality customer service that King Brand provides on a daily basis. This is the perfect online community that will help educate, heal and get you back on your feet in no time.
→

Click here for the the full King Brand® Forum Experience
Copyright 2011-2023 King Brand Healthcare Products® Limited. All Rights Reserved.
Meniscus Injury Treatment,
Muscle Injury Treatment,
Neck Injury Treatment,
Plantar Fasciitis Injury Treatment,
Shoulder Injury Treatment,
Tendon Injury Treatment,
Wrist Injury Treatment,
BFST Wraps,
Blood Flow Stimulation Medical Devices,
Blood Flow Stimulation Therapy,
Blood Flow Stimulation Wraps,
LCL Injury Treatment,
MCL Injury Treatment,
ACL Injury Treatment,
PCL Injury Treatment.
King Brand
®
ColdCure
®
Cold Therapy ice packs and gels are the best solution to your ankle soft tissue injury. King Brand
®
ColdCure
®
RigiGel
®
Ankle Wraps hold the cold longer, stay in place and are safer than any other product. Treat your ankle pain with King Brand
®
for the best results.